WELCOME TO
RECREATION FOR FUTURE PINBALL
---

Who am I ? (shortly)... my name is Dominique CAMUS, french guy (in advance, apologize for English faults), living in Chartres (100 km west of Paris, France. Chartres is known about it's wonderful cathedral). I'm 46 years old, my job is computers (networks/systems expert and VB & Delphi developer). Computers, video games (flippers, flight simulation and FPS games) and handled game consoles (Nintendo DS) are also my favorite hobbies.

February 2007: tied to play "Pro Pinball Fantastic Journey", I discover Future Pinball. This software allows to design and play pinball tables in a real 3D environment. And the best for the end, Future Pinball is FREE!!
At this time, they're many available (and all free) tables designed for Future Pinball. Some are realistic, other are fictious... Look in particular for famous "Popotte" and "Greywolf" old-style electro-mechanical tables. Look also for Blindmankind Pinball, Ruckage and Pethu about fantastic tables. You can find many hundred of tables from Future Pinball forum (closed ?) or using a search engine.
I'm a Xenon pinball fan since 1981, when I was student... Manufactured by Bally MFG Corp., Xenon was the first pinball to use a transparent tube located above playfield: any ball can "fly" above playfield, from start ramp at right to left side chamber. Xenon was also one of first pinball game to use (sexy female) real voices... Many informations, pictures and documents about real Xenon are available from Internet Pinball Database (IPDB) website. Other favorite pinballs are Williams' Cyclone and Twilight Zone.
Sincerely, Xenon isn't the most exciting machine for gameplay, because the rules are extremely rudimentary: top saucer three times, shooting the tube, then top saucer three times again... But it looks fantastic (they're ton of lights, in particular on the translite).
Unfortunately, I can't find Xenon recreation for Future Pinball. By the way, I'm designing it (IT'S MY FIRST TABLE), as realistic as possible. This "huge" project began during April 2007... For now, Xenon remains in Work in Progress (WIP) development status - until future final 1.0 - but it's fully playable!
Lastest available release: XENON v0.5 - Saturday, April 17th, 2010


REQUIRES FUTURE PINBALL 1.9.20081225 (not compatible with older versions).
FEATURES
Solid-state electronic pinball game.
Up to four players.
From 2 to 5 balls per game.
Two-balls multiball.
Plexiglass tube above playfield.
Top & side saucers (kickers), ramp, spinner, drop and leaf targets, bumpers, rollovers...
Light strip behind the tube.
All functional playfield lamps.
Complete playfield with plastics (high quality textures).
Realistic scoring, extra balls, SPECIALs, awards and MATCH feature.
Vocals and noises effects, synth and background music.
Player score and table status HUDs (Head-Up Display), can be shown/hidden as you want.
Tilt handling.
Real scoring & instructions cards on apron (dynamically updated, regardling settings).
Compatible with Future Pinball built-in high score table.
Simulated power switch (machine can be turned off anytime!).
Full setting from both DIP switches (hardware) and Self-Test mode (software).
Coinage ratio (from 1 to 15 credits per coin).
Service/maintenance mode for operator.
Lamps and display drivers diagnostics simulation during power on stage.
CURRENT RELEASE
What's new in this release?
New playfield and plastics textures (from Ezepov).
Must be done: TON OF THINGS!!!! like:
Light synchro with background music must be enhanced a bit, for better precision - PLANNED LATER.
Realistic attract mode (for now, only "Try Me Again" attract voice works, every two minutes).
Under consideration: animated Self-Test & S33 buttons (I've seen this in "Cyclone" table, very cool visual effect!!).
Translite (really I hate this texture!), all translite lights and indicators, when I'll find a descent translite texture!.
Script optimizations/cleaning.
PDF User Manual - PLANNED FOR FINAL 1.0.
...and probably some additional things after bug reports, discovers, forgots...

SCREEN CAPTURES (click to enlarge - 1920x1200)...


Whole Xenon pinball game & poster.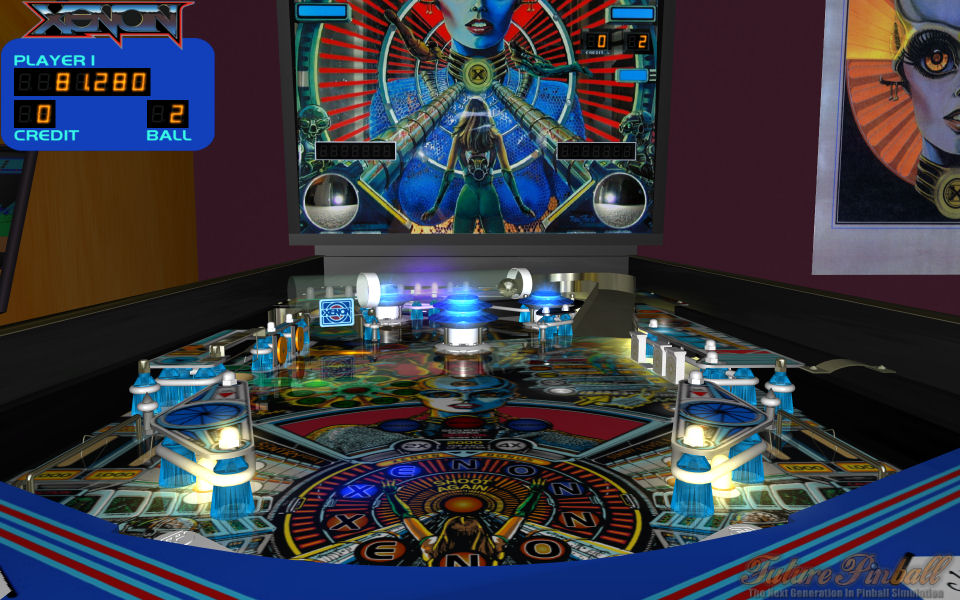 Table view during game play (Low angle camera), with scoring HUD.


Table view during game play (Camera mode 1), without scoring HUD.


Travelling ball through the Xenon tube and the light strip in action!


Game settings from DIP switches (inside backbox). An interactive "manual-style" HUD will help you for all DIP settings. Don't forget to power off the game prior to open the backbox!


Additional settings and statistics view (bookkeeping), through (simplified) Self-Tests mode. An interactive "manual-style" HUD will help you for any Self-Test position.


Dynamic instructions (left side) and scoring (right side) cards on apron, including official cards references!
DOWNLOAD & INSTALL
Download the lastest release of Xenon for Future Pinball (version 0.5 - April 2010) (this .zip archive contains all required files).
Filesize: 12.4MB
From downloaded .zip archive, extract both Libraries and Tables enclosed folders DIRECTLY INSIDE your FuturePinball folder on hard disk.

SUPPORT
Please use VPForums (an account is necessary for posting, but it's free) for feedbacks and bug reports.
My "username" on VPForums is DoCam.
ACKNOWLEDGMENTS

I'd like to thanks in particular:
Ezepov, for new HiRes textures (playfield, apron, spinner, bumper caps, plastics) used in this version 0.5.
Christopher "Black" Leathley and whole Future Pinball development team, for excellent Future Pinball software.
Martin "Lio" Antholzner for 3D objects modelling in general, and Xenon tube & white plastic rings in particular!
"Greywolf", for some suggestions (EM model, table dimensions) and permission to use some textures.
"MadMax", who permits me to use opened back box image (from Silverball Magic website).
David "pinwest_ca" for real Xenon informations.
...and finally, Bally Manufacturing Corp., who have created... the real Xenon pinball game, 30 years ago!!
USEFUL LINKS
Future Pinball official website: http://www.futurepinball.com
Many nice recreated tables can be found from IRPinball: http://irpinball.ztnet.com
Take a look on pretty original tables from Blindmankind Pinball: http://www.pinballhispano.net/blindmankind
Other fine conversions from Pethu/Misaligned Cow Ventures: http://www.pethu.se/misaligned
Pinball infos, tips, pictures from Silverball Magic 2.0: http://www.silverball-magic.com
The "Bible" of real pinball games: IPDB - The Internet Pinball Database, on http://www.ipdb.org
MY CONFIG:
Case: MaxInPower BigMax (black).
Power supply: Antec TruePower Quattro 850W.
Motherboard: ASUS P5Q3 Deluxe WiFi-AP@n (Intel P45+ICH10R chipset), BIOS 2105.
CPU: Intel Core 2 Quad Q9550 (2.83GHz stock, OC @ 3.4GHz very stable since many months).
Cooling: Zalman CNPS9700 NT (air cooling).
RAM: 4096MB (2x Corsair 2048MB DDR3 1333).
GPU: MSI N280GTX-T2D1G-OC (nVidia GeForce GTX280) 1GB DDR-3, NVIDIA reference drivers 197.13 WHQL.
Monitor: Iiyama ProLite E2607WS (26' 16:10 LCD) @ 1920x1200 60Hz.
HDD: SATAII SAMSUNG HD103UJ SpinPoint F1 1000GB 7200 RPM 32MB cache, internal, AHCI.
HDD: SATAII WESTERN DIGITAL 1.5TB 7200 RPM 32 MB cache, internal, AHCI.
Optical: SATA LG CGW-H20L Blu-ray/DVD/CD reader/writter, HD-DVD reader.
Audio: Altec Lansing VS4121 (stereo speakers & bass), Logitech headset.
Keyboard: Logitech Media 600 (USB wired).
Mouse: NOVA Slider X600 (USB wired).
Gamepads: 2x Logitech Rumblepad 2 (USB wired).
Misc.: Aerocool GateWatch 2 (used for temperatures monitoring and external USB).
OS #1: Windows 7 Home Premium x64 (used as main system).
OS #2: Windows XP Professional SP3 (for testing purposes).
Internet access: NONE.
Have fun with Xenon!
Dominique CAMUS.